The Marathon du Médoc – A Gallic masterpiece!
Here in the Inspiring Wines Office we like to think of ourselves as fairly fit, although let us not be coy about it, we all also enjoy a glass or two (or three) of something lovely of a weekend but we can rustle up tad of sporting heritage amongst us. We've a couple of 'fairly' recent (it's all relative…) 10k runs and even a half marathon completion medal in the mix somewhere… even if it was a few of years back.
Our "get up and go" hasn't totally "got up and gone" just yet so, ideally what we need is a sporting event to compete in that encompasses our love of sport and our love of the pressed grape. Throw a bit of cheese in the mix and you are definitely on to something!
Sound like a flight of fancy?
Not so!
We may have found you the perfect combination of wine, cheese and running! As unlikely as it may seem,
We give you…
The Marathon du Médoc
I would love to have been at the meeting when someone came up with the idea of combining a full marathon, in compulsory fancy dress, cheese, pâté and litres and litres of  delicious French wine, all topped off with shellfish fresh from the Atlantic, more bread than you can shake a French stick at and a plethora of locally produced pastries, cakes and crème glacé. But this heavenly buffet isn't just reserved for spectators, oh no! It is all for the runners themselves. Add in lots of live bands, they have 23 orchestras dotted around the course apparently, fun activities and plenty of general nonsense and you have yourself one very big weekend…
You gotta love the French!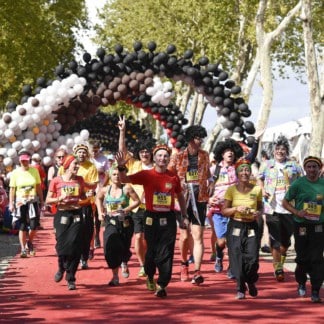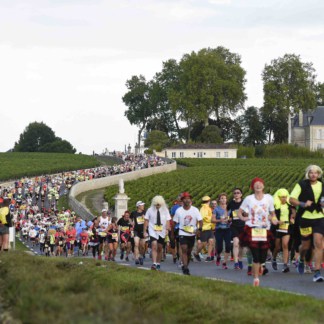 The Marathon Des Chateaux du Médoc to give it it's full title, is an event that takes place each year in the Médoc region, south of Bordeaux. A region know for some of the worlds most famous red wines, Margaux, St Julien, Paulliac to name but a few. It's now in its 34th year and is a highly anticipated event every year with competitors coming from all over the world to take part.
Just so we are clear, the expectation of competitors is to negotiate the 26.2 mile course through beautiful vineyards, which means hills, in early September, which means hot (32°C + is not uncommon), dressed up in the most ridiculous costume they can think of. And they should do this whilst enjoying the fruits of the most lavish of refreshment stations of any marathon in the world all washed down with wine, lots and lots of wine!
It sounds completely crazy, anyone who has ever tried to do anything even mildly sporty whilst enjoying an alcoholic beverage or two, let alone run a marathon will understand the complete madness of it all. But therein lies it's brilliance, it's so crazy, it's simply wonderful!
This is gonna hurt!
However, if I may 'keep it real' for a brief moment, it is worth mentioning for anyone thinking about getting involved, with all the Camembert, Claret et al consumed the casualty count can be quite high and there is quite a lot of roadside chundering going on during the race so watch out for that and you should be aware you have to finish the course in 6hrs 30mins. Bearing in mind that the average finishing time in the London Marathon is something around 4hrs 30 to 4hrs 45 which is no mean feat for the amateur athlete in a completely sober state, add in copious amounts of wine and the best buffet you ever laid your eyes on and you have yourselves a challenge indeed!
If you do feel the urge to have a go, this year's event takes place on 8th September with 'Amusement Park' as the theme and registration is open now, the race is limited to 8,500 places so don't hang about.
Look out for the numerous 'pasta parties' and other events on the eve of the event for you to manage your 'carb loading' ahead of the race, served with wine of course…lots of wine.
In fact, there are events across the weekend as well as the race itself, I am reliably informed from someone who has actually taken part that many of the runners are very much worse for wear before they even begin the race from all the parties on offer, like no other start line you have ever seen!
On a more relaxed note, on the Sunday after the race there is a relaxing walk in Margaux through the vineyards of Médoc that you can sign up for. That is of course if you can still walk!
Here at Inspiring Wines Towers, although we can't make it this year, we are already talking about and planning for the 2019 event… well, you've just got to, haven't you?!
Take a look at http://www.marathondumedoc.com/en/ for more information.
And whist you mull over entering this incredible event, why not treat yourself to something lovely from the region to get you in the mood:
Chateau Majureau Sercillan Bordeaux Superieur
Chateau Lestage Simon Cru Bourgeois Superieur, Haut-Medoc
Chateau Tayac, Margaux, Famille Portet (2010)
Chateau de Garraud Lalande de Pommerol
Salut!
Written by Dean Spencer – Inspiring Wines fitness guru! ( He talks a good game!)
A big thank you to the Marathon du Médoc website for the images of last years event.
If you have enjoyed this post please do share it with your friends.