Liverpool Spring Festival 2018
The Liverpool Spring Festival – so good they do it twice!
The last weekend in April 2018 means only one thing at Inspiring Wines Towers, it's time for our favourite and in our very humble opinion one of the very best food festivals of the year (it's also our local festival which is another great reason we love it! We can be home for our tea in no time…);
The Liverpool Spring Festival will take place at Sefton Park in Liverpool on Saturday 28th and Sunday 29th April.
Something For Everyone in Sefton Park
If you've not been before and you are somewhere near the fine city of Liverpool over that weekend it's well worth getting down to Sefton Park to join in the fun. There is, quite literally, something for everyone at this fine festival of food, drink and much, much more. And the Inspiring Wines Team will be there with bells on!
We'll have a great selection of wines available over the weekend and we are planning some amazing festival offers, so, get yourselves down to Sefton Park, come and find us, say hello and taste some wine. What's not to like?!
There will be fabulous deals to take away on the day or if you would prefer, when you've found something you like we'll take your order at the festival and have it delivered directly to your door the following week on a day that suits you.
Loads on Offer Across the Weekend
As well as our selection of gorgeous wines from around our beautiful planet, the Liverpool Spring Festival is an explosion of food and drink, catering for pretty much every taste, there is more street food than you can shake a stick at, you can sample all kinds of drinks and browse products from a wealth of lifestyle producers. There is always plenty to keep little ones occupied too, once you've bought them a massive bag of pick 'n' mix of course, with loads of kids activities going on to burn off some of the sugar… vintage fun fair, farm animals, arts and crafts to name but a few.
Liverpool Spring Festival Eco-pledge
Something we are very excited about at Inspiring Wines and one of the reasons we love to work with the both the Liverpool Spring Festival and it's sister event, the Liverpool Food & Drink Festival that takes place in September (15th & 16th in 2018) is that they are an eco-friendly bunch and have announced the launch of a campaign to keep the festival free from any plastics that may be harmful to the environment!
As part of that initiative, all outlets and producers across the festival are encouraged to sign a pledge to serve food and drink in only biodegradable containers and not to use single-use plastic straws at all.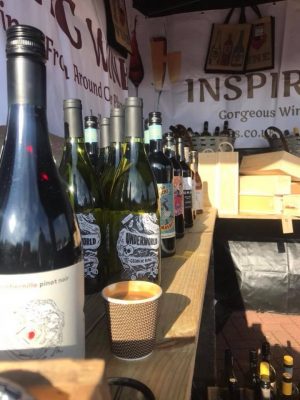 We are all over that at Inspiring Wines and fully supportive with our commitment to only using biodegradable or recyclable products on our stand at the festival. In fact we have adopted this approach for all our festivals this year. All our tasting cups are produced from biodegradable material, we only use 100% recyclable gift packaging for all our wine sales and we always make sure we recycle all our used bottles, boxes and packaging at the end of each event.
So not only is it a great weekend, it is also trying very hard to minimise it's impact on our amazing planet and that has to be a good thing. You can find out all about and get tickets for both Liverpool Festivals on their website liverpoolfoodanddrinkfestival.co.uk
A new addition to this years festival calendar for us and one for your diary is Manchester Eats taking place at Heaton Park, Manchester in July. From the same stable as the two great Liverpool Festivals it should be an amazing weekend, tickets and lots of info about the event available on the Manchester Eats website right now.
Here's hoping we see you at one of these fab events this summer.
Written by Dean Spencer – Director – Inspiring Wines
If you've enjoyed this post please share it with your friends, we really appreciate it.