Cheese And Wine – Seriously, what's not to like?
Chips and 'tommy' sauce, apple pie and custard, nice cup of tea and a Hob Nob. Some things just go together beautifully. Wine and cheese is another one of those perfect pairings that need to be together, in fact some might consider it a crime against humanity to serve one without the other.
There's nothing quite like cheese, a cracker or two and a lovely glass of wine. Be it full bodied red or a fruity white. If you head to the south of France, throw in some olives, you can literally make this your diet for two weeks straight. I know, I've done it!
If you've never put the two together, firstly, whaaaat?! And secondly, are you in for a treat? You are about to discover some combinations of sheer beauty and delight. In my book any combo of cheese and wine is fabulous but for it to be a proper treat follow some simple rules and you'll be sorted!
As with any food pairing, there are factors to consider, but it really isn't the science of rockets. At first glance of the cheese counter in any decent deli there are so many different types of cheese available, it can seem daunting, and of course sooooo many more different kinds of wine to pair them with.
Each wine and each cheese has it's own unique trait that determine whether together they are a match made in heaven or something to steer clear of. But again, as we always say here at Inspiring Wines, it's all about personal taste in the end so if it's cheese triangles and Retsina you enjoy…carry on!
That said, there are some tried and trusted combinations that we always stick by. So, if you are planning to serve wine and cheese for the end of a dinner party or just for a snack, great flavour combinations can make a big difference.
There are a number of elements to consider when choosing your cheese and wine pairing, tannin, fat, and acidity are key and even the texture can require a little thinking about. All these factors will help you match the wine and cheese.
So, what wine goes best with the cheese you've chosen? Or indeed the wine you love. Let's look in a little more detail:
Not All Sliced From The Same Cheddar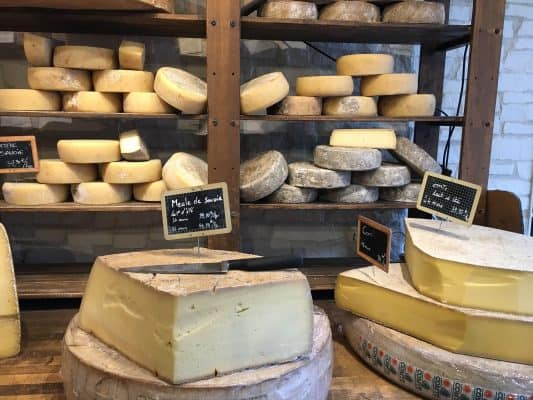 Before we look at individual wine and cheese pairings, it's worth exploring the different types of cheese available. To make things easy you can divide cheese into four distinct categories, there is little science applied here but it works for me.
Spreadable/Fresh Cheeses
Generally soft and can be mild or sometimes a tad tangier. These cheeses can easily be spread across a cracker or bread. Includes things like cottage, Primula, Laughing Cow etc.
Hard Cheeses
There's a joke in here somewhere…These cheeses are a lot harder, more firm and can have quite a distinct taste. Depending on the type, they may have a salty edge and can also age rather well. Think Haloumi, Parmesan, mature Cheddars etc.
Blue Cheeses
These are those cheeses that look like they've been gathering mould in the cupboard for weeks but actually taste rather delicious. Similar to hard cheeses, they can taste salty and as the name suggests, look a little blue. These are also the cheeses that will smell out your fridge, so they need a particular type of wine. Think the classic Stilton or it's softer cousin Danish Blue.
Creamy Cheeses
The bloomy cheeses have a softer rind and are very light but also a little more elegant or luxurious. These are the cheeses you'll bring out for those fancy dinner parties, who hasn't flashed a baked Camembert, in it's own special baking pot from Ikea, ("I mean when were we going to use it if not now") to impress their guests..? Oh, you know who you are…
The Main Event
Next we need to think about the wine that might be on offer. Is it something light and fruity or big and full bodied. As with everything experimentation is the key here, by trying different cheese flavours and wines to find which one works best for each type of cheese and you as an individual. It's a tough job but…
Obviously if you've read this far you are looking for some actual suggestions, so here we go, this is by no means a definitive guide, we've stuck to our Nations most popular cheesy choices and the usual caveat applies. If you've read any of our other articles on our blog the Inspiring Wines mantra is always 'it's all about personal taste' but we've often found these are good combos to get you going.
Making The Mature Choice – Cheddar
Who doesn't love a good mature Cheddar? Cheddar is one of those distinct cheeses, that falls into the 'hard' category and if you are lucky will have a nice sharp taste. Sometimes it can leave an after taste in your mouth on it's own which is where your lovely bottle of wine comes in.
When you look for wines to go with your Cheddar, you need to go big and bold. Lighter reds can be completely overpowered by a strong Cheddar. Try a classic Cabernet Sauvignon or a fruity Grenache. These have good tannins, lots of fruit and can hold their own even against the strongest of cheddars. Both would cut through that after taste we mentioned before.
Our Suggestion: Look for a juicy Priorat from Spain.
One to Try: Merum Ardiles Priorat
Or alternatively, you can try a Chardonnay. A great summer alternative with a strong Cheddar. This might seem like an odd choice, but the right Chardonnay with a full bodied oaky flavour can work well paired with Cheddar cheese. The body, fruit and oak can complement Cheddar beautifully.
Our Suggestion: Le Vieux Quartier Bourgogne Chardonnay
Sticking With Stilton?
The most common Stilton cheese is the classic blue of course. It's well known for a pungent smell and an even stronger taste. For this type of cheese, you can obviously think about pairing it with Port. The fresh fruit flavour seems to work particularly well with this cheese. It's a classic combination for a reason. It has been said that there was a tradition in polite society for carving out a hollow area in the Stilton cheese and drinking the Port straight from it. Not something I can recommend and I imagine prohibitively expensive these days. I've never actually seen anyone do that by the way but I am assured 'it was a thing'!
As a wacky alternative, why not try a sweeter desert wine, something like a Sauternes from France. The wine has a beautiful, sweet taste but still maintains a distinct acidity which can cut through the power of the Stilton. The flavours including peaches or apricots seem to work very well with this tricky cheese.
Bring On The Brie
Brie, I am sure you are all aware of it, a soft cheese made from cow's milk offers a lighter flavour, though the rind can add a certain level of tanginess if you're a rind eater. Since the taste of this cheese is typically fairly mild, you can opt for a lighter red such as a Chilean Pinot Noir. However, if you've chosen a decadent Brie, with a bit of age to it ("it's very runny sir!") you're going to need a wine that packs a punch so consider something a bit more fruity like a good Merlot. You can also match this cheese with a lightly oaked Chardonnay or Pouilly Fumé with it's subtle, oak flavours.
Our Suggestion: El Infiernillo Single Vineyard Pinot Noir
Munching On Manchego?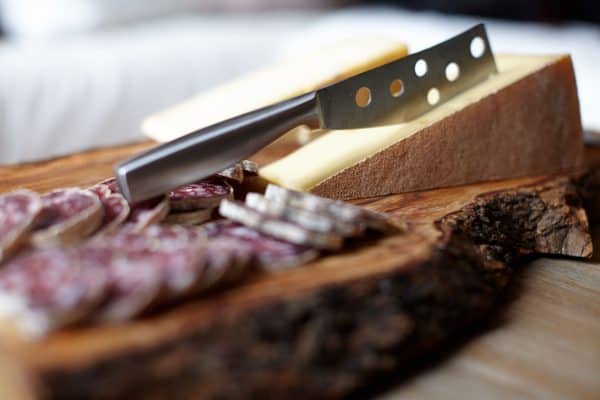 Manchego, a Spanish cheese can be aged for up to two years. Keen cheese lovers will know of its firm form and buttery feel. There are various different flavours available including a nutty caramel which I have to say is a real treat if you can find it. This is another one where a big red like a Cabernet Sauvignon can work very well indeed. But also look towards South America for a juicy Malbec. Both styles have a high level of tannins and intense dark fruit flavour that go perfectly with Manchego.
Our Suggestion: Pablo Y Walter Malbec
Or, you can think about choosing a wine from the same region as this Spanish favourite, a Tempranillo perhaps, these wines tend to be full of red fruits but are usually quite dry and make the perfect pairing to the Manchego's sweeter taste.
Our Suggestion: Senorio de Sarria Reserva
Hello Haloumi!
Very popular in the UK these days the Cypriot staple Haloumi is a semi-soft cheese made from goat and sheeps milk. The mainstay of many a vegetarian diet and the one item every host has in the fridge for a barbecue just in case someone turns up who doesn't like meat.
The texture of this cheese and the lighter flavour means that it is perfect to be paired with champagne or dry sparkling wine if you're in that kind of mood and fancy a bit of fizz. Alternatively, a Sauvignon Blanc is another great choice. The particular flavours from the Sauvignon Blanc including white peach and green apples provide a wonderful combination with the cheese. Lean towards warmer climate Sauvignons for a slightly sweeter edge.
Our Suggestion: Crowded House Sauvignon Blanc
Chilli or Spicy Cheeses
You might be in the mood for something spicier in your cheese, the American Pepper Jack cheese is a great example but there are many others around now with chilli or jalapeños in them. If you do want a spicy cheese, you need wine that contrasts with that strong flavour. As with spicy foods you need to look at something a little lighter and with a good level of acidity. Maybe think about trying a Moscato for this cheese. Slightly sweeter, often 'frizzante' with orange and lemony zest that matches well, it's also generally lower in alcohol which will sit well with the spice.
Our Suggestion: Canto 5 Diez Siglos
Smokin'
Or, you could be thinking about serving a smoked cheese which will have that distinct and powerful smoky flavour. It's not an easy one this, smoked cheese can be tough to pair with wine. Go for a medium red, something that uses the Syrah grape as part of a blend can work well as can a Chianti, a Classico ideally if you can stretch to that.
Our Suggestion: Il Grigio Chianti Classico Riserva
As an 'out there' alternative try a Gewürztraminer with your smoked cheese or even a Riesling for a lighter smoked cheese like a smoked Gouda
Our Suggestion: Turckheim Gewurztraminer Vieilles Vignes
I hope this has helped you on some level with your wine and cheese pairings. Always remember though, half the fun is exploring all the different options and trying your own pairings to find the perfect match for your favourite cheeses.
All that said whilst there is no doubt, some work better than others, any wine and cheese combo is just great in my very humble opinion. I'm off to the fridge…
Written by Dean Spencer – Director – Inspiring Wines
If you have enjoyed this post please share it with your friends